Programs >
Youth (Grades 6-12)
Youth News
Sunday School-9:30 am
Wednesday Night Discipleship-6:30 pm
UPCOMING EVENTS
Mandatory Camp Meeting-This Friday at 7:00 pm. Let's meet in the conference room located next to the library.
Friday, June 3-we will be going to the Greensboro Ice House to skate–Leaving church at 7:30 pm. Skating from 8-10:30 pm. Younger siblings may attend if parent attends with them also. Cost for admission/skate rental: $10. Extra money if they want snacks at Ice House.
The youth will be headed to Ft. Caswell July 25-30. Check it out: http://students.bedotell.com/ Please be praying for us!
Post a Comment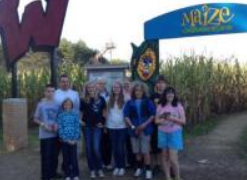 News Of Note
currently no announcements
previous month June 2016
Youth
S M T W T F S
1 2 3 4
5 6 7 8 9 10 11
12 13 14 15 16 17 18
19 20 21 22 23 24 25
26 27 28 29 30
site administration
site map
Contents © 2016 Parkway Baptist Church • Site Provided By: Show Off Studios